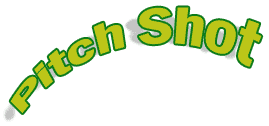 Watch the Video Clip Now:


Watch Billy McKinney's "Pitch Shot"
(High-Bandwith recommended)

Bill McKinney has only recently started doing teaching videos with us. He's very respected by other pro's — in fact, the PGA prez of Germany begged Bill to stay in Europe... because what he was teaching the pro's there had changed the European game dramatically. And they were starting to kick American butt in international tournaments again. Bill has returned to the States, and every golfer who knows the power of his teaching ability is thrilled.
Here's how to start pitching like the pros:
So I am pinching down on this ball. Don't be afraid of that thin grass. You have to put that leading edge against the ball. If you have some room to run and a tight lie then you open up slightly to add some loft but you still want to sustain your wrist alignment… you don't want your wrist to flip. Every shot in golf is a challenge and we love a challenge. If you work on this shot, it will be the foundation of your stroke and every short game shot. That's the basic pitch.






Resource:
To get more of Billy McKinney's excellent teaching techniques and tips please refer below:
Natural Power
Pro-Level Power and Accuracy
Smart Short Game Choices
One Simple
"Magic Move"

Doesn't matter if you're totally out-of-shape, or can barely bend over to pick up your ball without creaking anymore! You simply use these easy secrets to instantly unlock the scary turbo-charged potential in your swing.
Add 50-to-70 yards to your very next tee shot, no matter how bad you've been playing lately… GUARANTEED!

Pro Secrets to Powerful and Accurate Golf" is a fully-illustrated 14-page report written by Bobby Schaeffer revealing professional golf secrets.